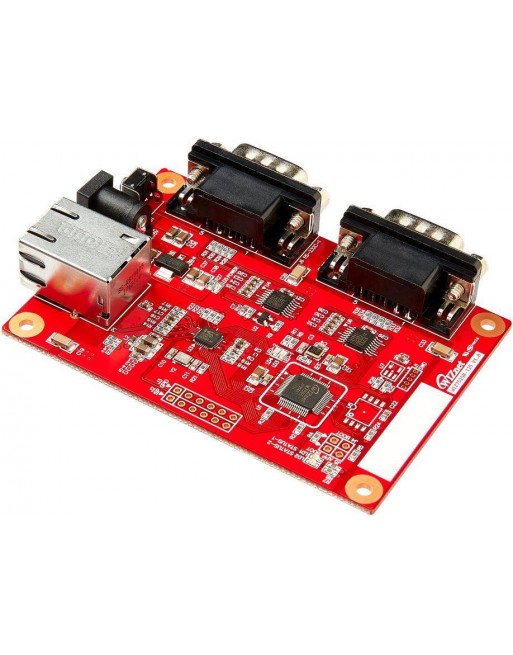  
WIZnet WIZ752SR-125
WIZ752SR-125 is an embedded module based on WIZnet W7500 &  IP101GRI. WIZ752SR-125 is the protocol converter that transmits the data sent by serial equipment as TCP/IP data type, and converts back the TCP/IP data received through the network into serial data to transmit back to the equipment. It supports two serial ports(RS-232C) so that it can communicate with two serial equipments at the same time.
5pcs / BOX
Features
Serial to Ethernet Module based on W7500 & IP101GRI
2 D'sub9 & RJ-45 mounted
Serial signals : 2port serial port(RS-232C) / TXD, RXD, RTS, CTS, GND
Support the configuration method of AT command & Configuration tool program
Support password function for the security
10/100Mbps Ethernet & Max.230kbps serial speed
Support WIZ VSP (Virtual Serial Port) program
Hardware Specification
2 D-sub 9 pin connector for serial & 1 RJ-45 for Ethernet interface
Dimension (mm) : 88.5(L) x 66 (W) x 18 (H)
Input Voltage : 5V
Max. Power Consumption : 95mA
Operation Temperature : -40 ~ 85℃
RoHS, SVHC Compliant
Utilities
Configuration Tool : github.com
Virtual Serial Port (COM port) for User's Programs: WizVSP
Download
No customer reviews for the moment.