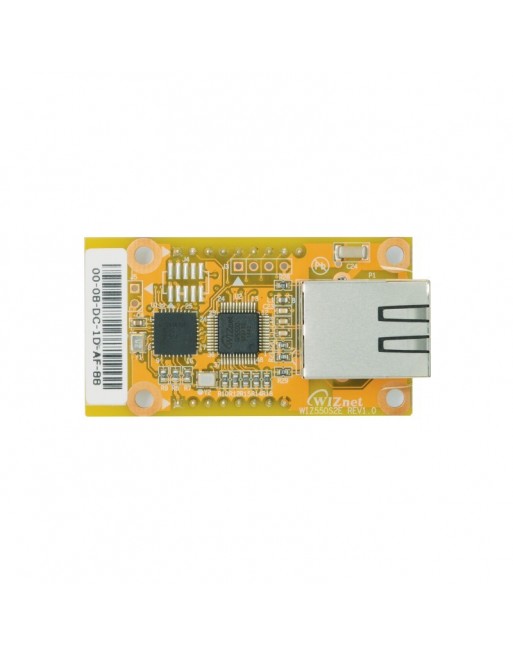  
WIZnet WIZ550S2E
WIZ550S2E is the serial to Ethernet module using W5500 & Cortex-M0 MCU.  WIZ550SE is the protocol converter that transmits the data sent by serial equipment as TCP/IP data type, and converts back the TCP/IP data received through the network into serial data to transmit back to the equipment.
WIZ550S2E 20pcs / BOX
WIZ550S2E-232 10pcs / BOX
WIZ550S2E-485 10pcs / BOX
If you use the interface board for RS232 and RS422-485, you can easily connect the module to any serial device.
Features
Serial to Ethernet Module based on W5500 & Cortex-M0
RJ-45 mounted, Pin-header type module
Serial signals : TXD, RXD, RTS, CTS, GND
Support the configuration method of AT command & Configuration tool program
Configuration tool program operates on Windows, Linux & MAC OS
Support data communication using AT command : able to send data without re-configuring and re-boot of the module when changing the destination IP
Support the interface board for RS-232 and RS422/485
10/100Mbps Ethernet & Max.230kbps serial speed
Support WIZ VSP (Virtual Serial Port) program
Hardware Specification
Dmension (mm) : 55(L) x 30 (W) x 23.49 (H)
Input Voltage : 3.3V
Max. Power Consumption : 179mA @ RS422 mode
Operation Temperature : -40~ 85℃
RoHS, SVHC Compliant
Download
No customer reviews for the moment.